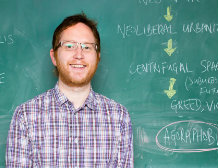 Dr Gareth Millington
Reader in Urban Sociology, Principal Investigator
Gareth is an urban sociologist. Gareth joined the University of York in September 2012 having previously taught at University of Roehampton and University of Essex.  His doctoral research on hostility directed towards asylum seekers in a seaside town was funded by the ESRC. Gareth has since published widely on cities and culture and has worked on a variety of funded urban research projects. Before becoming an academic Gareth worked as a schoolteacher in Essex and London.
Miranda Armstrong
Research Associate (London)
A writer, researcher and academic, Miranda joined the research team at University of York in January 2021. Prior to this, she taught sociology and criminology at Goldsmiths, and worked on research projects at Open University and University of Cambridge. As an ESRC funded-doctoral student at Goldsmiths College, Miranda researched the retrospective experiences of black single-parent women and men raised by them. The findings of this work are documented in the graphic pamphlet, Beyond the Myth: Single Black Mothers and Their Sons.Her writing on single motherhood has been published in the Motherhood Untold anthology and Discover Society among others. Miranda's main research interests include women's lives and their experiences of family as well as urban inequalities.
Dr Aurélien Mokoko Gampiot
Research Associate (Paris)
aurelien.mokokogampiot@york.ac.uk
Dr. Mokoko Gampiot joined the Department of Sociology in December 2020 as a Research Associate on the Archiving the Inner City Project (directed by Gareth Millington and funded by the Leverhulme Trust).
A specialist of African religions and African diaspora, he has widely published on Kimbanguism since earning his PhD in Sociology at the University of Rennes (France). His latest book, published by Pennsylvania State University Press in 2017, is available in OpenAccess.
More broadly, Aurélien's research interests are centered on the interplay between religion, race, and gender in African and diasporic communities in Europe and North America. His forthcoming book discusses Black Jews in France.
Dr Ayshka Sené
Research Associate (Paris)
ayshka.sene@york.ac.uk
@ ayshkasene
Ayshka joined the Department of Sociology in March 2021 as a Research Associate on the 'Archiving the Inner City Project: Race and the Politics of Urban Memory' (directed by Gareth Millington and funded by the Leverhulme Trust). The project explores the contested ways that the times and spaces of the twentieth century 'inner city' are made legible in the present, focusing on sites in London, Paris and Philadelphia.
Ayshka studied Modern Languages at the University of Bath and Cardiff University where she received her PhD in 2018. Her doctoral research on the history and memory of British women interned in Occupied France was funded by the AHRC. Ayshka previously worked as a Research Fellow at Nottingham Trent University and a Research Associate on the EU-funded H2020 project, 'Unsettling Remembering and Social Cohesion in Transnational Europe' (UNREST) at the University of Bath. Ayshka was also an Archival Researcher on the Discovery Channel documentary, 'World War II: Witness to War' in 2018.
Ayshka's doctoral research focused on the experiences of British women interned in Besançon and Vittel, two Nazi camps in Eastern France during the Second World War. It mobilised archival material in Britain and France, oral history interviews, memoirs, letters and interviews undertaken at various points since the war. Her work highlights the importance of 'Britishness' in internees' negotiation of the Occupation and how national identity has shaped the inclusion of their experiences in cultural memories of the war in Britain and France.
Ayshka also specialises in the creation of online learning materials; she has produced a podcast on disease, contagion and confinement in France's overseas penal colonies ('Podcasts from the bagne') and a Massive Open Online Course (MOOC) on the memory of conflict and violence in 20th–century Europe.
Dr Irteza Mohyuddin
Research Associate (Philadelphia)
Dr. Irteza Binte-Farid is a Postdoctoral Fellow in the Annenberg School of Communication, University of Pennsylvania. Irteza grew up Muslim in Virginia and moved to Philadelphia for her PhD. She wrote her dissertation about Black Muslim youth and considered the role of Islam, blackness, and ethnic identity in the identity formation of these youth in a Philadelphia public school. Her wider interests include exploring how history shapes our present experiences and cultural memory.
Austin Cooper
PhD student, University of York
agc543@york.ac.uk
Austin is a PhD student working as part of the Archiving the Inner City project. His research will analyse music videos born out of genres associated with 'inner city' London: jungle, garage, grime, and drill. Through these analyses, and through interviews with musicians, producers, and directors, his project aims to formulate a more nuanced understanding of the interaction between the different spaces in which this music has been made, experienced, and audio-visually represented, and between these spaces and the people who live and move through them.
Sophie Rainbow
PhD student, University of York
ser555@york.ac.uk
Sophie is a PhD student at the University of York, working as part of the Archiving the Inner City Project funded by the Leverhulme Trust. Her research considers the portrayal of temporality in the literature of Harlem from the twentieth century to the present day, and is split between the Departments of Sociology and English Literature. Before starting her PhD in 2022, Sophie studied English Literature to MA level at Durham University and worked as a journalist.
Adassa McDonald-Dixon
ESRC Summer Research Experience Placement
Adassa worked on the Archiving the Inner City project during the summer of 2022. She worked on writing up an interview with Yvonne Taylor (see 'interviews' on this website), on a walking dialogue on urban history through Brixton (with Miranda Armstrong) and on an Archiving the Inner City podcast, due to be released in early 2023.